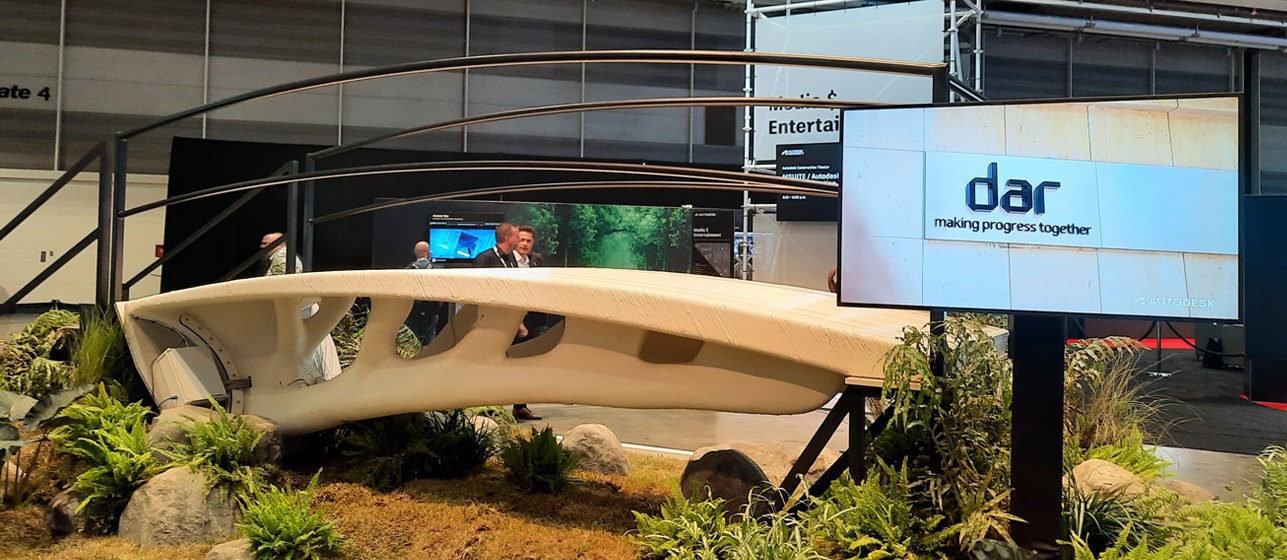 At Autodesk University 2022, Dar and Autodesk Research revealed a stunning, 3D-printed five-metre smart bridge, the latest outcome of a ground-breaking research project that has focused on using generative design, 3D printing, robotics, and artificial intelligence to make the construction industry safer, more sustainable, more intelligent, and more efficient.
Building on the success of the 2-metre Smart Bridge, the five-metre bridge empowered the research team to experiment with improved printing practices and recycled materials, test the possibility of printing in-situ with robots on construction sites and refine the process of creating intelligent infrastructure. The project's objective was to test printing workflows, technologies, and innovative materials to facilitate sustainable and effective 3D printing for buildings, bridges and large-scale infrastructure in the future.
A single-propped cantilevered bridge, the new structure was 3D printed using recycled polyethylene terephthalate glycol (PETG) and glass fibre, with FBG sensors integrated into the deck and traditional strain gauges in the support. The bridge is not only longer and heavier than its predecessor, it is also differentiated in a number of key aspects, including a new printing approach, a different and more complex design and internal structure, and more sustainable printing materials.
Printing at an angle – optimising the printing workflow for larger structural elements.
Dar and Autodesk Research leveraged lessons learned from the experience of printing and designing the two-metre Smart Bridge to optimise the available design and printing strategies. In one of the key adjustments, the five-metre bridge was printed at an angle, as opposed to the horizontal approach adopted for the two-metre bridge. Printing at an angle offers much more flexibility by eliminating the constraint of the limited overhang angle and by ruling out the need for support material. Moreover, printing at an angle reduces the time needed to print a single layer and makes it easier to print in-situ on construction sites, opening up more opportunities for printing structural elements and parts with larger footprints.
Experimenting with generative design
The five-metre bridge also features a more complex design. While the first bridge was designed mainly as a hollow structure, the five-metre bridge utilised a remarkable infill that mimics bone structure and functions as a lattice assembly. In designing this internal structure, the team compared different infill patterns based on added weight, gained stiffness, and printing speed – in order to find a unique pattern that best balances the combination of these criteria. Used in medical implants, this infill is remarkably easy to print and offers greater flexibility in various directions.
Integrating parametric design
While generative design was used to create the optimal external organic shape of the bridge, parametric design was used to optimise the gyroid infill pattern in terms of volume percentage and bead width with the intent of maximising stiffness and minimising additional weight
Incorporating recycled and recyclable materials
The bridge was also printed using newly-selected material with exceptional durability, printability and longevity. Significantly, the bridge material is not only highly recyclable; it is composed of 70% recycled material, making it even more sustainable than the two-metre bridge and establishing a precedent for incorporating sustainable, recycled material in new structures.
Sensors and digital twins
Like its predecessor, the five-metre smart bridge incorporates FBG sensors integrated into the deck and traditional strain gauges in the support. These sensors act as the bridge central nervous system – continuously providing data on the bridge performance and health. This information is transmitted to and represented on a digital twin platform, which conveys the bridge condition in real time. These technologies will empower future operators to monitor and manage their building and infrastructure assets in real time, optimising operation and maintenance and extending the useful life of these assets.
Revolutionising design, manufacturing, and construction
Incorporating generative design, 3D printing, and digital solutions will lead to new concepts in design, construction, and manufacturing. These technologies still require research, testing, and development – but a pilot project such as Dar's series of smart bridges provide a proof-of-concept that such unprecedented designs can be realised in efficient workflows and with improved safety and sustainability.
Dar's teams have already begun implementing such technologies on real projects on a far larger scale and with new design concepts. Working with an industry leader in technology development such as Autodesk has paved the way for delivering these technologies from the research board to reality – forming a new chapter for the architecture, construction, and engineering industry.
Check out extensive media coverage, from Arabian Business, Wired ME, and the 3D Printing Media Network, on the five-metre Smart Bridge.