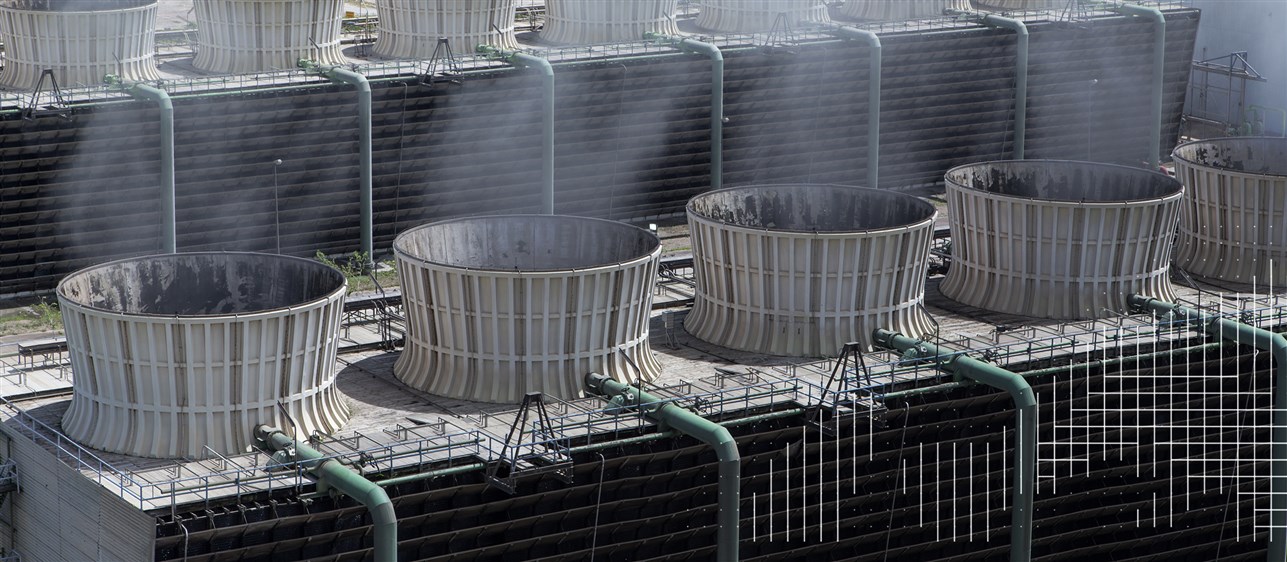 High vacancy rates and reduced demand: COVID-19 and the district cooling industry
The COVID-19 pandemic struck the world economy like a wrecking ball. Its impact on several business sectors — such as aviation, hospitality, and others — has been explicit and unprecedented, but the pandemic has also had a domino effect, due to lockdowns, shortages in cash flow, and a significant increase in public health cautiousness. These effects have driven many corporations to revisit and re-tailor their business models, product lines, and engineering practices. The basic infrastructure and building MEP (mechanical, electrical, and plumbing) industry is no different. In the first of a two-part series, mechanical engineers Ibrahim Kronfol and Ali Jadallah investigate the potential effects of the pandemic on the district cooling industry in the Gulf Cooperation Council (GCC) countries.
A new challenge
Before the pandemic, the district cooling industry, which runs on the centralised production and distribution of cooling energy, was showing promise in GCC countries, offering proven sustainability and energy saving benefits. However, the pandemic has imposed a heavy burden on the industry, especially on mega-district cooling plants serving mixed-use developments. A significant drop in cooling demand over the last few months can be attributed to the relatively high vacancy rate in hotels and shopping malls along with the reverse immigration of workers and employees who lost their jobs and moved away from main cities (to the countryside or to home countries in the case of expat workers). Due to this reduced demand, district cooling providers have faced a challenge in collecting sufficient cooling demand bill payments to cover the cost of production and overhead and still maintain an acceptable rate of return on investment.
A complex business model
Even before the pandemic, the question of whether the district cooling industry had built a robust enough business model in the GCC's business-hub cities was still debatable. Despite the obvious benefits in energy efficiency, many argue that, from an end-user's perspective, both fixed and demand-based district cooling charges are considered high, as compared to standalone 'less efficient' commercial systems. For end-users, a valid question remains: why does it turn out to be cheaper to run a residential flat with a standalone A/C system on around 1.6KWe/TR than running the same flat with a district cooling option, where the cost of production is supposed to be around 0.9 KWe/TR?
To better grasp the various business constraints behind such a question, consider Dubai, one of the cities with the highest penetration rates for the district cooling market in the region. In the past few years, several acquisitions of cooling plants took place, with the result that only two major players remain in the Dubai market today. The first is Tabreed, which in 2020 acquired 80% of the EMAAR district cooling scheme at a cost of 675 million USD. The second is Empower, which is responsible for the Palm Utilities district cooling scheme in Palm Jumeirah, acquired in 2014 at a cost of 500 million USD. From an end-user perspective, such an arrangement may raise worries of hindered competition among district cooling providers and a subsequent further increase in the utility bill.
On the other hand, district cooling providers are themselves being charged based on the industrial electricity slab tariff rate, which is higher than the rate a standalone cooling system would be charged with under the residential/commercial slab tariff.
Safeguarding an innovative, sustainable model
These inherent factors exacerbated the impact of COVID-19 on the district cooling industry. Worse, it is not yet clear how long term the impacts of the pandemic will be, though it is safe to assume the effects will be here long enough to influence or even change many practices. It is to be feared that these changes may cause a trend to re-adopting the classic stand-alone cooling system, a move which would sacrifice the proven energy saving benefits of the district cooling scheme.
However, there are a number of measures and best practices that could potentially support the district cooling industry and allow it to strengthen its business model at such a time.
Efficient government regulation: Government regulation can take several forms and can tackle various issues that matter to service providers, end-users, master developers, and other parties. For instance, governments can subsidise the industrial electricity slab tariff rate for district cooling application and promote a carbon footprint reduction incentive scheme. Also, a government can further audit the actual needed district cooling plant capacities during design stages, probably based on energy modelling outcomes, in order to hinder design oversizing practices. Another intervention can include carefully regulating the construction of district cooling plants based on the construction progress of the served facilities, through promoting a modular expandable district cooling plant design. Moreover, governments can plan on attracting new district cooling providers through facilitating incentives such as allocating monetary funds to promote competition.
Consolidation schemes: An emerging practice is to have a neutral governmental entity regulate and apply a city-wide holistic cooling and power scheme in coordination with market utility providers and master developers. A somehow similar scheme has been implemented in the United States, in which a government-based grid scenario was implemented with different district cooling plant owners supplying the needed chilled water to a pool of end-users through a common piping grid.
A more sustainable approach: Powering district cooling plants with renewable energy can make a significant difference. Copenhagen, for example, has major district heating coverage and promotes wind turbines to generate clean electricity as part of the energy resources mix. A similar scheme of district cooling and solar power generation can be applied to GCC major cities.
In summary, governments can liaise with district cooling providers and expert consultants to initiate a consolidated scheme with a city-wide district cooling grid connected to multiple cooling plants that possibly utilise on-grid solar power or other renewable sources. Such a resilient, sustainable configuration can bring benefits including operating more efficiently in normal and abnormal conditions, optimising the need for new district cooling plants, benefitting from a broader range of diversity, and reducing electricity tariffs, especially considering that electricity accounts for a significant percentage of the costs of cooling generation.
By operating efficiently under government guidelines and possible subsidisation in electricity and by unifying district cooling tariffs, district cooling providers will not only have the margin to sustain themselves during such a pandemic, they will also be able to provide a more economical option to end-users. Perhaps this could even be a chance to move towards much more ambitious targets, including even possibly a net zero cooling configuration.