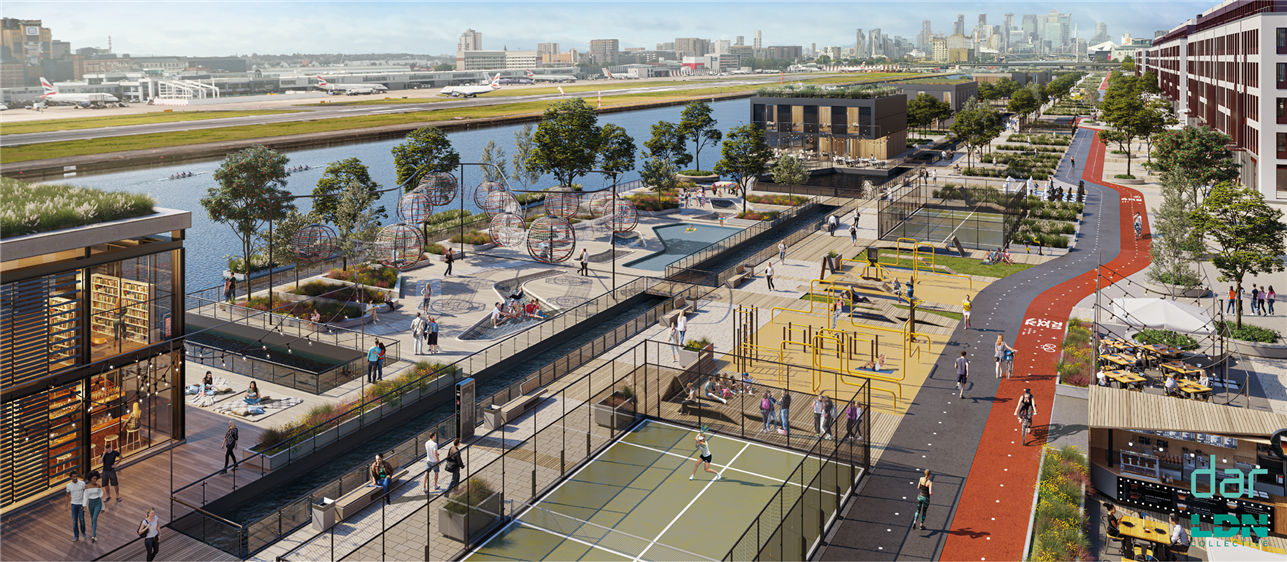 Date13.03.23
LocationUnited Kingdom Europe

Dar and the LDN Collective have envisioned an innovative new sports and leisure master plan which guides the transformation of the historic Royal Docks into a global waterfront destination.
Breathing new life and pride into London's historic gateway to world trade
A London mainstay since it first opened in 1855 to relieve the city's crowded waterways, the Royal Docks was once London's gateway to global trade and industry – a vibrant hub that has historically been ahead of its time, hosting people and products from around the world and playing a crucial role in servicing the city and its people. Following decades of decline, the Royal Docks closed to commercial traffic in 1981. Today, however, London's Royal Docks are enjoying a stunning revival through substantial transformation and investment. With significant committed investment in the area, the Royal Docks are preparing to claim the spotlight once again as a culturally rich and unique waterfront home for innovative business and culture.

In line with this envisioned growth, Dar and the LDN Collective recently unveiled a new vision that would transform the Royal Docks into a globally recognised waterfront destination with a focus on sports, leisure and entertainment.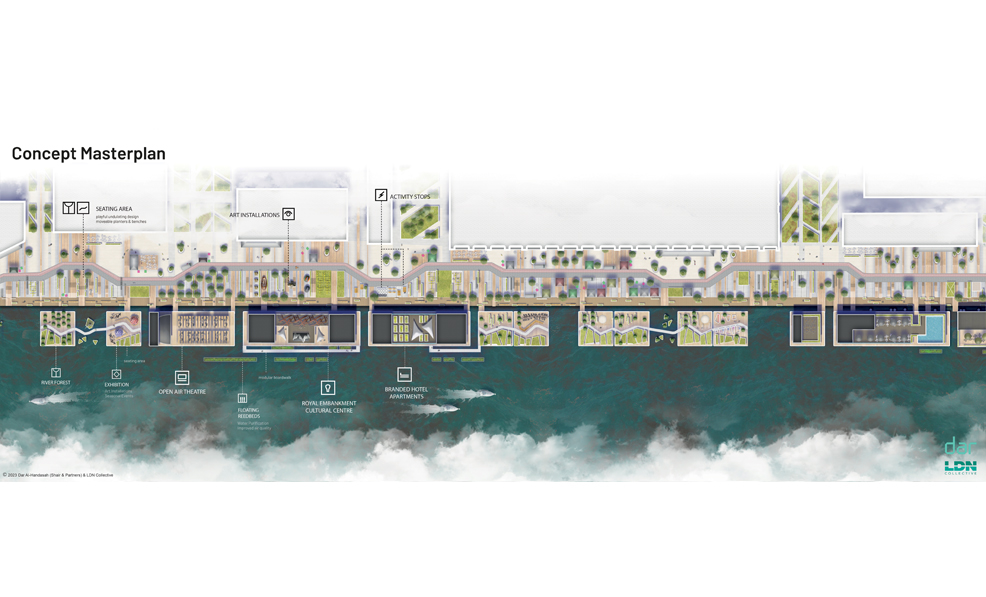 At a time of enduring societal change, the new strategy – which includes a state-of-the-art 'eventscape' – aims to offer residents and visitors a unique, compelling, and ever-changing mix of reasons to engage with the new Royal Docks through an innovative, modular, and flexible approach to urban planning that will act as the binding glue to connect wider development and bring water to the forefront of this famed destination.
Spotlighting London's waterfront: floating modules, a reconfigurable urban canvas, and globally recognised sporting events
The differentiating lynchpin of the vision proposed by Dar and the LDN Collective is a configurable collection of floating buildings, structures, and spaces, specifically designed to activate the enormous and vibrant potential of the waterfront in to a waterfront boulevard.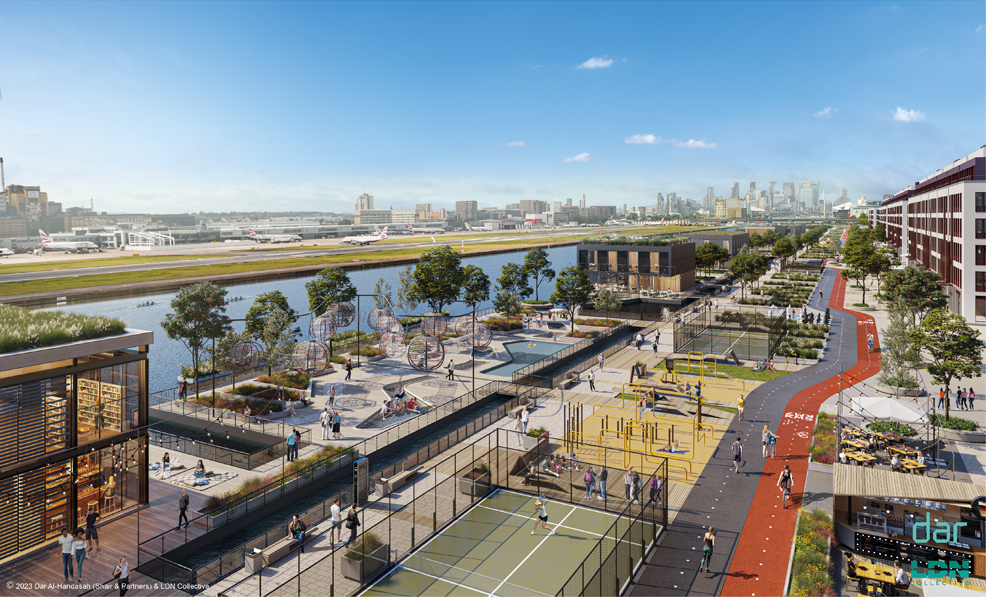 Aimed at bringing a central foci for residents, workers and visitors, this vision for the northern embankment of the Royal Docks is intended as a catalyst for further investment in the area, combining mixed use facilities with social infrastructure for local residents and the wider community. In order to cater towards the vast range of existing and future people that will occupy the area, the vision celebrates diversity through introducing a wide range of activities to suit all user groups and promote active and healthy lifestyles. Innovative floating modules will individually deliver a wide variety of functions, activities, and commercial uses – from boutique hotels and restaurants to libraries and pocket parks – and can collectively combine to offer stunning potential options for events.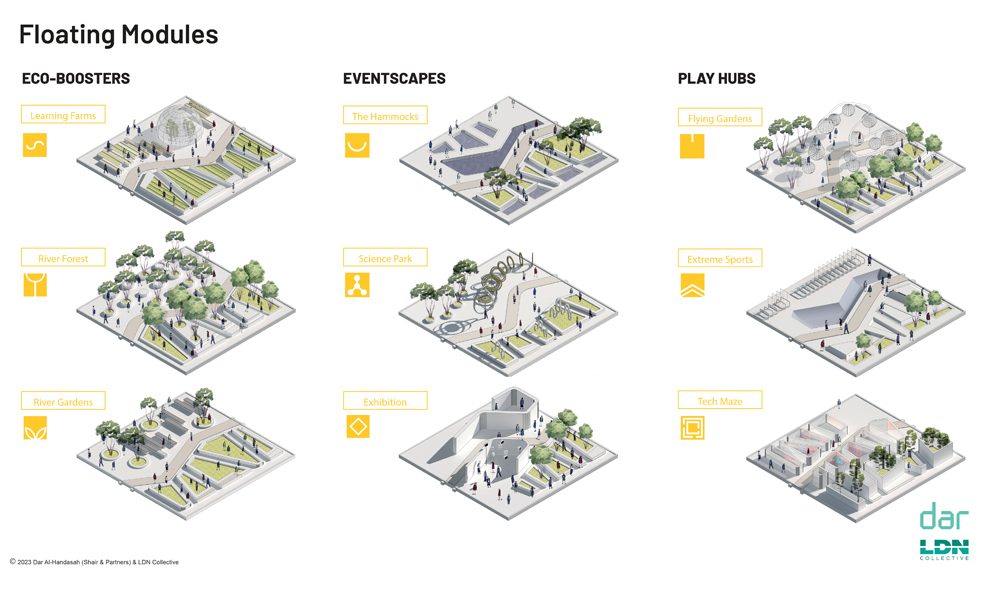 To cite one prominent example, the plan makes provisions for the embankment and floating modules to be reconfigured and the decking removed to reveal a race track fully capable of hosting a major motorsport event, with the floating modules offering spectators unique vantage points from which to observe the race – a truly unique concept.

Through approaching the design in this way, the masterplan provides a setting for such events, whilst respecting the legacy and community use throughout the rest of the year.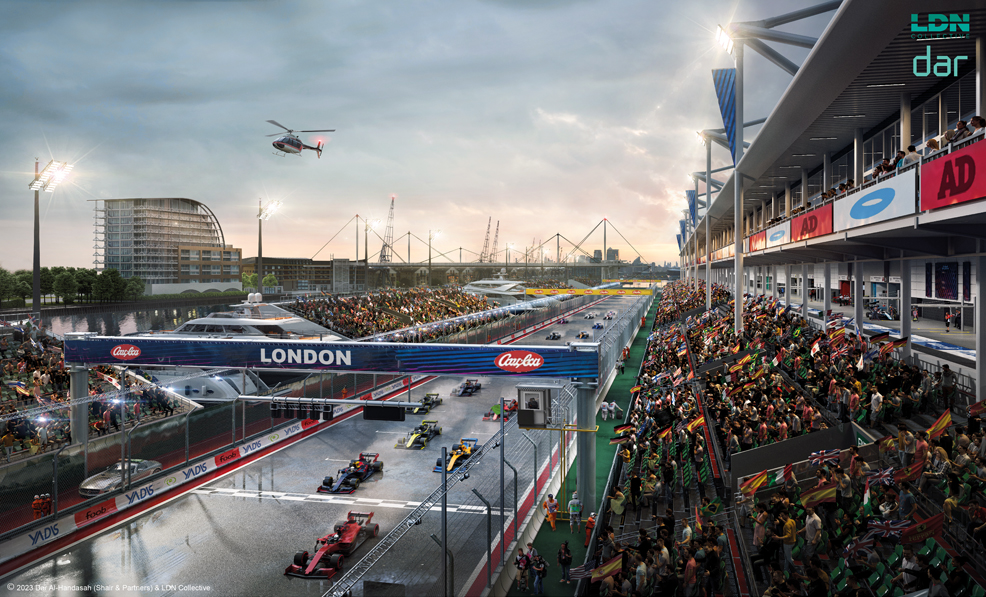 The floating modules can also be moved and adapted to cater for major events while still meeting the evolving needs of the local community for years to come. This flexibility and modularity is essential in a post-pandemic world.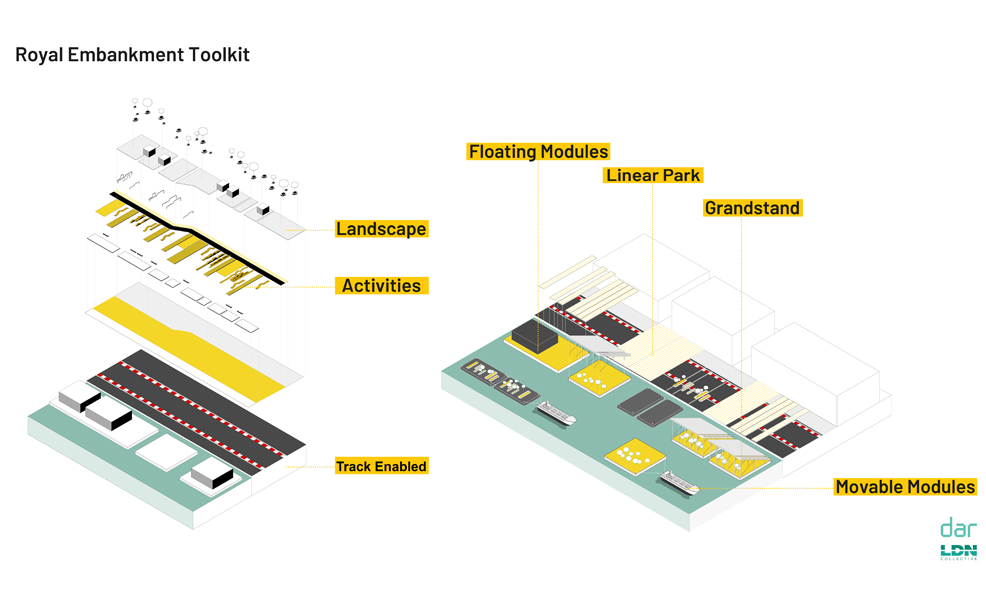 "We are excited to bring forward this vision which could do for the Royal Docks what the Olympics did for Stratford and the Lea Valley. By extending the promenade we are creating a flexible eventscape and by creating floating commercial uses we are making the proposal financially viable and deliverable, without the taxpayer footing the bill…
…We know that there is interest in hosting motorsport events here and we have designed a track that meets all of their requirements and regulations. We have discussed the proposals with the GLA, who are developing a water strategy and planning framework with Newham Council, which we will align with. With or without motorsport, these proposals are transformational and would be a huge boost to London and the UK globally."
Max Farrell, CEO of the LDN Collective
"It's apparent for anyone visiting the Royal Docks that the water is underutilised, but has huge un-tapped potential. We have approached this large, contained and clean body of water as a platform which can be reconfigured using floating modules, creating a new family orientated leisure and events destination….
…Although floating buildings, structures and spaces are a relatively new concept within the UK, there is a growing number of precedents, notably in Europe, which have been highly successful and cost effective. We believe this is an exciting and viable solution for activating the Dock, making it a world class destination."
Dan Horner, Director of Urban Design at Dar

The master plan stipulates extending the width of the existing Royal Victoria and Albert Dock, which runs for two kilometres from the new City Hall to the University of East London. The expansion will make space for a cycling and running track and other facilities that can encourage a healthy and active lifestyle for surrounding communities and create a setting for a truly family-oriented leisure and events destination. Running adjacent, floating modules that are respectful of their environment, activate the water's edge and provide tremendous benefits across the spheres of environmental, economic and social sustainability.
Dar feels that on an annual basis it is a healthy and necessary tenet to impartially define our own projects without a client. Through doing so, Dar is able to look at the site and the opportunity objectively in order to propose a holistic design that is best for all stakeholders, without external factors or vested interests. With this sustainable and flexible master plan, Dar and the LDN Collective aims to set a pathway to meeting the visions of local stakeholders for the Royal Docks as a prime location to live, work and play – a truly world-class destination with a strong sense of local community and unique features that honour the district's unique historic character.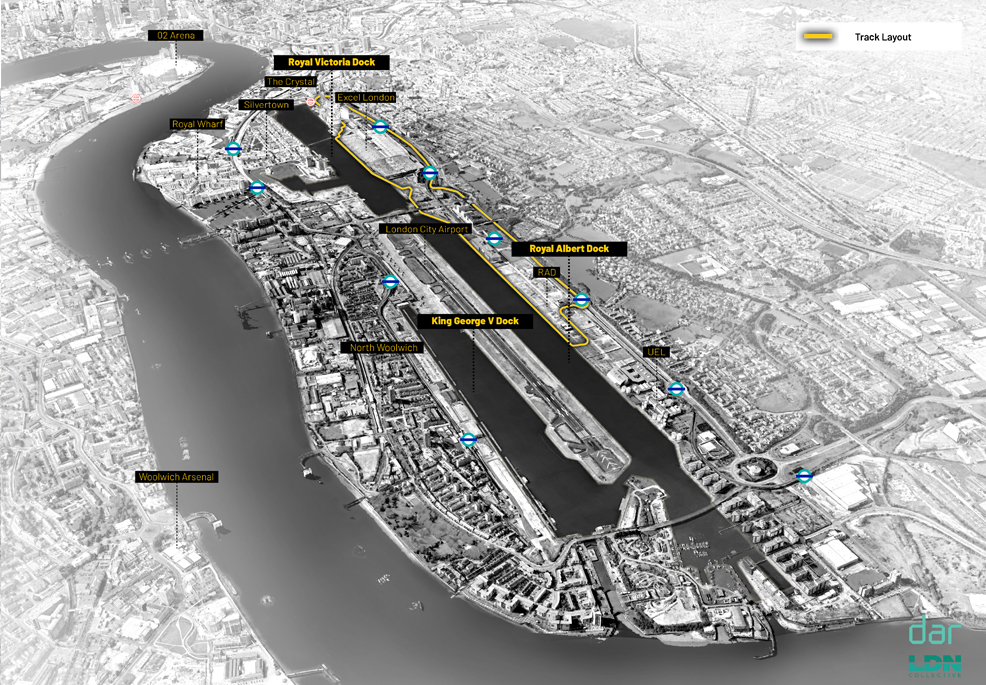 About LDN Collective
The LDN Collective is a network of 50 built environment experts and creatives fighting to improve people's lives and the planet's prospects. Their members are experts in social impact, zero carbon and modern methods of construction as well as architecture, engineering, graphic design and film-making. They are a dynamic and collaborative 'one stop shop' for projects anywhere in the world.
Current projects include masterplans for garden communities in Oxfordshire, Peterborough and Solihull; new health and wellbeing resorts in London and the South East; detailed planning applications for Clarion, the UK's largest housing association and #ParkPower - a crowdsourced vision for the future of London's green spaces.

About Dar
Dar is a leading international, multidisciplinary consultant. With our team of 7,860 staff members, we operate in 47 offices in Europe, Africa, Asia, and the Middle East.
Dar's core expertise is in engineering, design, planning, environment and sustainability, project management and economics. The company is one of the few consultancies experienced in working at the scale of a city or a nation and is active in some of the world's largest built environment projects.
Dar is the founding member of the Dar Group, an international network of professional service firms, comprising a workforce of over 18,000. Dar Group is a leading, privately-owned professional services group with award-winning impact and global reach.