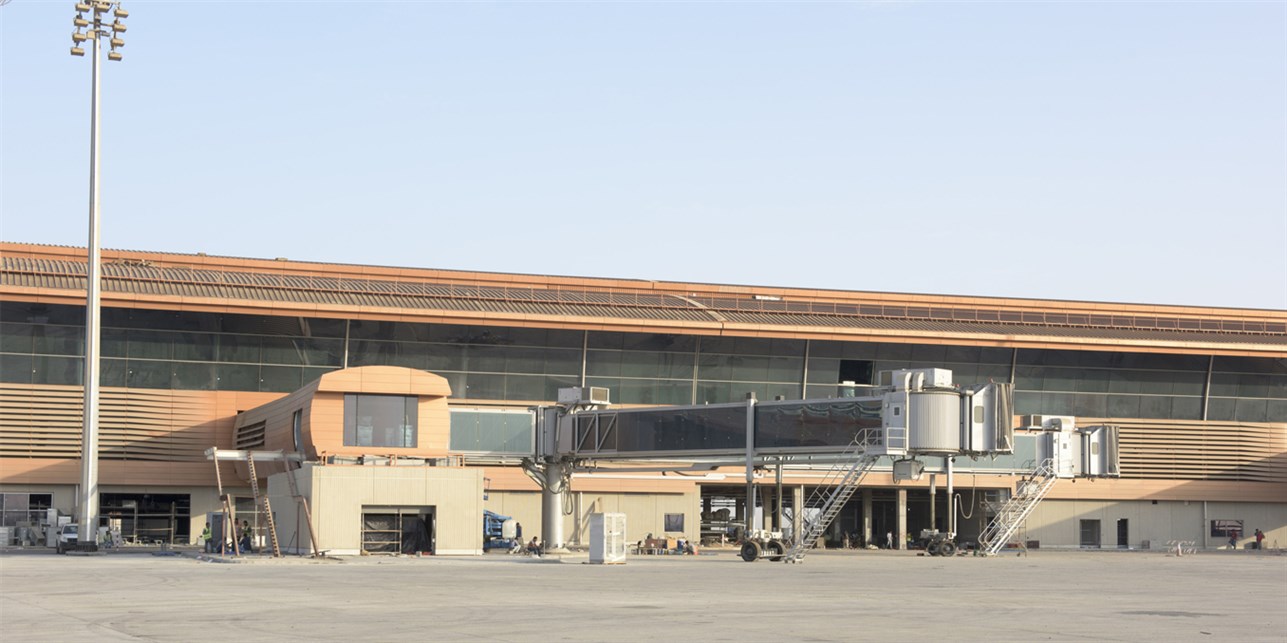 Date03.03.16
AuthorAli Tabaja
CompanyDal Al-Handasah
An 80-million-passenger airport project prepares for lift-off, and Dar is there guiding it.
Airport projects are complex; however, few are as complex as the King Abdulaziz International Airport (KAIA), among the largest such project worldwide. The airport is an intermodal hub being developped in three phases. By 2035, when the project is expected to be done, the ultimate capacity will be 70-80 million annual passengers.
As the construction manager, Dar acts as the technical arm of the client for project management. The company has been given a deep and broad brief that covers the master plan's review and update, contract management, supervision of construction, and management of the area of operation and transfer.
The vision for KAIA is threefold: increasing the country's air transportation capacity, enhancing the services provided at the existing airport and embodying the country's economic spirit.
With these aims in mind, KAIA maximizes its locational advantages. Firstly, the closeness to Jeddah, the gateway to the Two Holy Mosques, is a big benefit. Secondly, the airport's many business, education and leisure facilities in the adjacent Airport City are designed in harmony with the surroundings. Thirdly, the airport has a transportation center, and high speed rail and light rail transit connections.
---

Five areas of challenge
1. Project challenges
Project-related challenges include scope, revisions and labor shortages. Firstly, KAIA has a colossal infrastructure and a lifespan measured in decades. Secondly, it is a controversial project, often subject to financial revision. Thirdly, it is a risky undertaking with changing project priorities and objectives. Finally, Dar sometimes faces labor shortages.
2. Contracting challenges
KAIA's main contractor deals with many sub-contractors who come from various countries and who bring along a variety of cultural backgrounds. Furthermore, the project undergoes continuous organizational restructuring as it goes through the different cycles and phases. Dar Al-Handasah daily solves these contracting challenges while staying on budget and keeping on time.
3. Engineering challenges
The KAIA project requires a high level of design knowledge and lots of technological and logistical support. Highly-trained employees, especially in engineering and management, are another crucial element. A third challenge centers on technology, which is constantly developing. New demands include e-Gates, security systems and radio frequency identifications (RFIDs).
Because of the project's mega size, engineering and aesthetic, the Dar team needs to be very flexible and confront problems as early as possible. Management is a continuous process, and Dar supervises the work of the main contractor and about 70 sub-contractors.
4. Airport operation readiness challenges
Dar coordinates with all stakeholders to identify staff and resources needs. Also, the team constantly deals with new operational, security and safety standards. Finally, Dar has been tasked with the training, operational trials and transfer of all 75 airlines to the new facilities, as well as control authorities and supporting services – all without disrupting existing passenger services.
5. Expectation challenges
Dar's services will pave the way for a greater private sector role in the airport, and will lead the change from government service to customer-focused business. Dar provides the infrastructural backbone and the equipment to enable a seamless transition to Phases 2 and 3. Also, we manage the increased involvement of the private sector under several public private partnership (PPP) contracts. Thirdly, we assist the National Carrier (60% of passenger traffic at KAIA) in the transformation, helping them plan and adapt operations to suit the new facilities.
The challenges and expectations on Dar's shoulder are considerable. However, they demonstrate the faith that the client has put in Dar's capability and experience in airports – confirmed by our Number 1 ranking in airports worldwide for 10 years in the past 12 years, per latest Engineering News-Record (ENR) surveys. Teamwork is everything for such a project and is fully in evidence by the Dar team as is the caliber of the Dar team working, who perform with professionalism, in difficult circumstances, under pressure in an extremely complex project.
KAIA: More than a mere airport
About 720,000 m2 in built-up area spread over a spectacular twin crescent footprint
State-of-the-art air traffic control technology with a landmark 136 m high control tower
A transportation center with an integrated rail station for seamless travel connections
Forty-six contact gates and 94 boarding bridges, including ones for double deck, A380 aircraft
Automated people movers (APMs) internally linking the passenger processor and the international hub
Sophisticated baggage handling system (BHS) with over 1,700 m of conveyor belts
Taxiways, roads, tunnels, utilities networks, and support facilities on a scale to match the main buildings
A fuel tank farm and hydrant network for aircraft fuelling
A plant nursery serving the airport and broader community
High-end lounges, an airside hotel, and catering and retail facilities