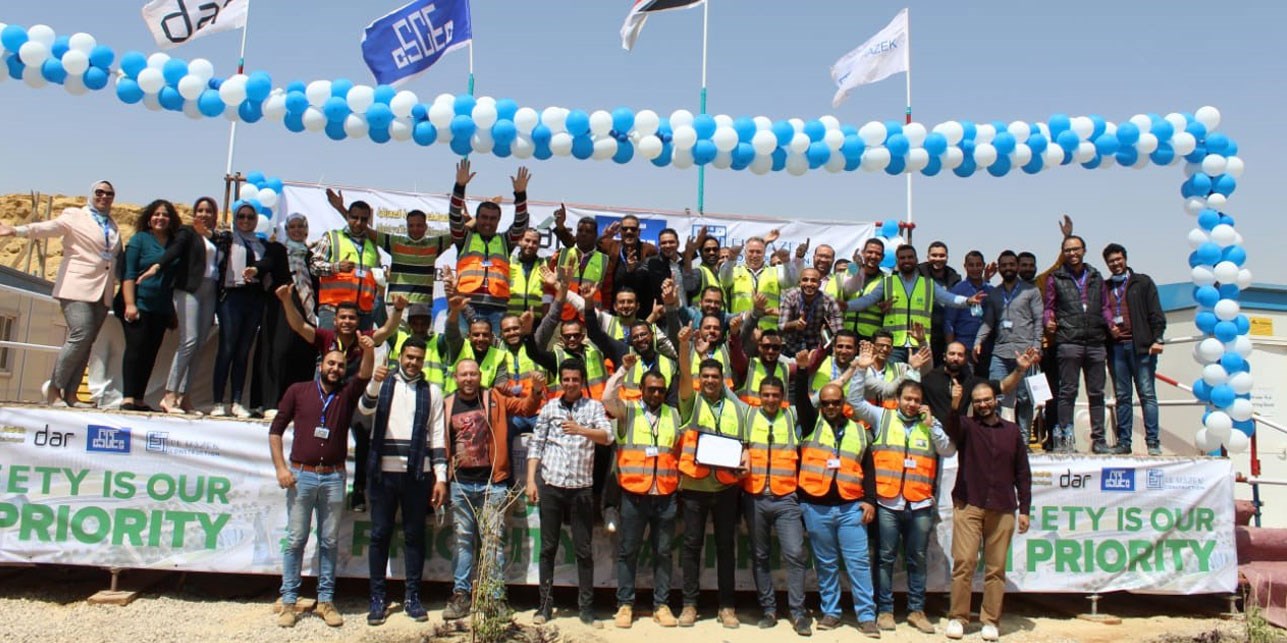 The construction industry casts a dark shadow. One of the world's most enduring and essential industries, it is nevertheless trailed by a stigma regarding its safety culture. When compared with other industrial sectors, the construction industry registers a soberingly high number of fatalities among workers and causes a significant number of non-fatal injuries that, while not as devastating as a fatality, can nevertheless have unacceptably negative effects on quality of life. On the occasion of World Safety and Health at Work Day, Jason Haig - Head of Dar's award-winning Health, Safety, and Environment (HSE) Unit - writes about improving the culture of safety on construction sites in the Middle East and Africa and how his team has helped contractors achieve millions of manhours with no lost time incidents in one of the world's most dangerous professions.
Construction sites are dynamic, difficult to manage, and fraught with potential hazards — from blasters and explosives, electrical wiring, and gas cylinders through material storage and transportation processes to electric power-operated tools, abrasive wheels, welding and cutting processes, lifts, material hoists, scaffolds and working at heights, all to name just a few.
As a design consultancy providing construction management and supervision services, Dar has taken on this challenge — setting worker safety as the paramount priority and creating a strong safety and health culture with a target of reducing work-related injuries and accidents to zero.
Safety by design
The effort of creating a safe construction site begins as early as the concept design stage — and certainly long before any construction activities begin. During this stage of the process, Dar's HSE unit — a team of multidisciplinary and specialised engineers — uses its extensive familiarity with construction site activities to identify and eliminate hazards or minimise risks, as early in the process as possible.
To achieve these objectives, Dar's HSE unit establishes the risk management context by familiarising project teams with the breadth of workplace hazards; identifying the required design disciplines, skills, and competencies; and specifying the roles and responsibilities of stakeholders throughout the stages of the project. For example, the unit advises design teams on the systems of work which are foreseeable as part of the construction method imposed by their design decisions. The unit also assesses the intended use of the structure itself as a workplace for construction workers and guides teams to introduce measures that eliminate or reduce hazards and create a safer working environment.
A number of practical measures can be introduced at the design stage to guarantee safety across the life cycle of the project. For example, designing components that can be prefabricated off-site or on the ground can relieve construction workers of the responsibility of assembling or erecting components at heights, thus reducing the risks of falls from heights or falling objects. Fixing windows in place at ground level prior to erection of panels can also reduce risks.
Design for machinery is another front in which the designer focuses on eliminating the cause of the danger and guaranteeing intrinsic safety. Through this process, the designer eliminates dangers at the design stage with consideration for the elimination of dangerous parts, making parts inaccessible, reducing the need to handle work pieces in the danger areas, providing automatic feed devices, and enclosing the moving parts of the machine.
Design by safety measures can have significant effects long after construction activities are completed. Such measures can include designing the structure so that maintenance can be performed at ground level or safely from the structure, though for example, positioning air-conditioning units and lift plant at ground level, designing inward opening windows, or integrating window cleaning bays or gangways into the structural frame.
The key aim of this safety through design approach is to integrate health and safety into the management of construction projects and to encourage everyone involved to work together to:
improve the planning, design, and management of projects from the very start by involving subject matter experts to ensure that risks associated with all aspects of business, particularly in terms of hazardous activities, are properly assessed.
identify hazards early on, so they can be eliminated or reduced at the design or planning stage and so the remaining risks can be properly managed.
target effort where it can do the best in terms of health and safety.
discourage unnecessary bureaucracy.


These aims are supported by thorough planning, analysis, assessment, reporting, and health and safety standards and processes. And the key to optimising the effect of these interventions always lies in establishing collaborative relationships with clients and others who influence the design outcome.
Stakeholder alignment and safety strategies — the countdown to construction commencement
The stakeholder HSE alignment meeting is a landmark moment in the lead-up to the day construction breaks ground. The meeting brings together the contractors responsible for the project prior to their expected mobilisation and before they begin work on the scope they were selected for. During this meeting, the functions and responsibilities of each stakeholder are discussed, and the elements of each stakeholder's HSE and security risk management strategy are shared. Participants will also share their performance metrics for leading and lagging (trailing) indicators, to ensure they are consistent with Dar's HSE expectations, which all parties must demonstrably understand before work activities start.
Dar's HSE unit also provide hands-on participation in risk assessment and in the associated development, implementation, and continual improvement of the Project Health, Safety, and Environmental Plan. The plan aims to integrate HSE into each operation by promoting worker involvement in the work planning and hazard identification process.
Just as importantly, Dar's HSE unit has a responsibility to ensure that all Dar employees, contractors, and stakeholders have all completed and documented required HSE awareness, compliance and specialty training (e.g. fall protection, energy isolation/hazardous energy control, hazard communication, use of personal protective equipment) and have the necessary qualifications, certifications, competencies, and medical clearances needed to perform their work.
On-site operations
Once construction commences, Dar's site HSE team maintains an active and highly-visible involvement in site activities. Our primary responsibilities include recognising and identifying hazardous conditions, recommending, and selecting appropriate controls for the risks associated with their work, recognising and preventing unsafe behaviours, coordinating emergency responses to ensure that emergency action drills are conducted, and suggesting improvements in work processes and the means to achieve higher levels of HSE performance. For complex tasks, our professionals review the contractors' method statements, consult on risk assessments and monitor implementation.
In addition, our staff communicates the presence or use of new risks, materials, tools, and equipment on our job sites; to participate actively in work-related training and skills development; and to implement new and existing policies, processes, procedures, and workflows consistent with their training and knowledge.
On a day-to-day basis, our site HSE experts monitor and report on the implementation of the approved HSE objectives and deliverables; review accident and incident reports; investigate root causes and introduce mitigation measures; and identify any trends and ensure that there is appropriate response to prevent future occurrence.
Future horizons in construction site safety
Dar's HSSE management system and processes are continuously revised, updated, and improved -- to incorporate latest best practices and innovations. We are consistently looking at the added safety value of incorporating technologies such as artificial intelligence for construction, panoramic 360 cameras, drones, crane cameras for progress monitoring, and IoT-powered personal protective equipment for health and safety tracking.
Within this effort, Dar is preparing to launch an incident reporting application that can be easily downloaded on a smartphone. The application allows users to report health, safety and near misses, accidents, non-conformances, and improvement suggestions while out on the project site.
With these and other measures, Dar hopes to contribute towards a new safety-focused culture in the construction industry, one that prioritises worker safety and leaves a more positive and long-lasting impact on communities.
Related News: https://www.dar.com/news/details/safety-first-dar-earns-iso-45001-certification?org=news