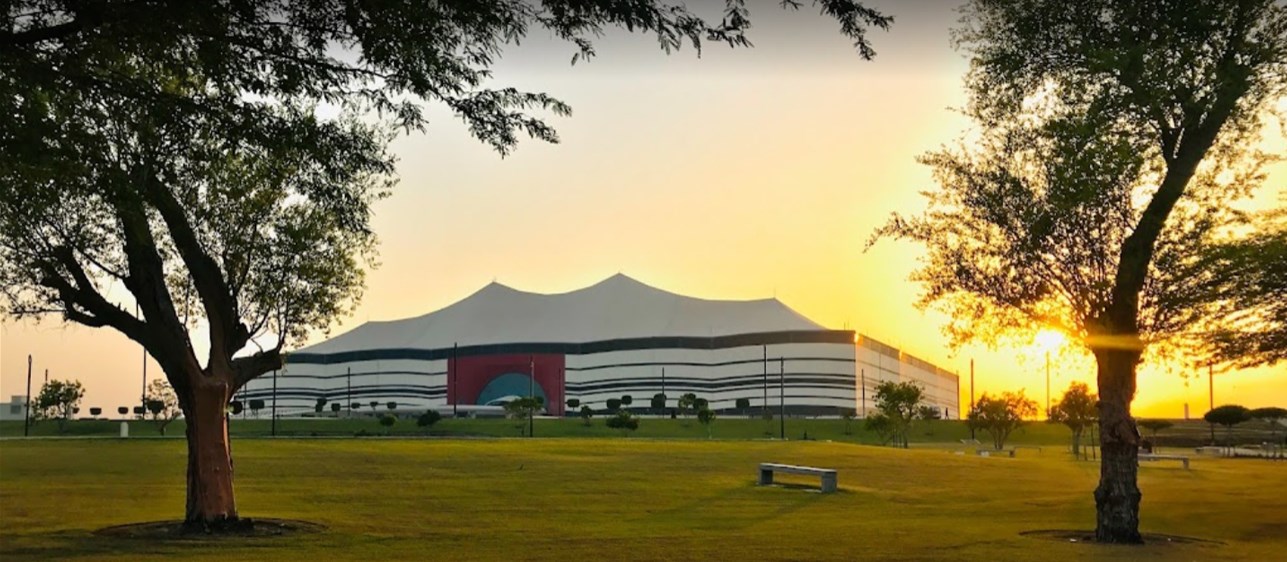 Erected near an oasis and designed as one of the centrepieces of FIFA World Cup Qatar 2022™, the Al Bayt Stadium is inspired by and named after the historic bayt al sha'ar tents traditionally used in Qatar and across the region. Dar provided the detailed design of this 60,000-capacity landmark stadium, incorporating best practices for circulation, security, convenience of operation, sustainable construction, maintenance, and future fitness. A sustainable development, the stadium will host commercial and recreational activities within its precincts, during non-operational mode. Celebrating the region's legacy, the stadium's upper tier of seating will be disassembled following the FIFA World Cup Qatar 2022™ and donated to developing countries in need of sports infrastructure.
Structurally, the Al Bayt Stadium consists of two separate entities: the bowl and the tent. The bowl houses three basements, a ground floor, three upper floors, and separate seating areas. The tent, meanwhile, has dimensions of 372.5 m × 310 m tent, and it covers the stadium itself along with the exhibition area. The tent's structure consists of tensile fabric connected to steel cables and steel trusses with concrete piers, equally spaced at the periphery of the tent, serving as anchor blocks for the tent's tieback cables. Underground tunnels serve the stadium basements as vehicular access and means of egress. The construction used advanced and recyclable materials and was recognised by the Global Sustainability Assessment System (GSAS).

To ensure spectator comfort at all times, Dar designed an energy-efficient district cooling plant with a total capacity of 55,000 TR and comprising centrifugal water-cooled chillers, glycol chillers, ice storage tanks, and thermal energy storage facilities. Moreover, Dar's team used computational fluid dynamics to ensure effective measures against fire and smoke and to optimise air distribution and comfort levels.

Dar also designed the infrastructure utility networks and systems serving the stadium. These include the various low-current, ELV, ICT, security, and audiovisual systems as well as a subsurface drainage system, to protect against groundwater rise, and a comprehensive solid waste management system. Dar also provided performance specifications for a rotating biological contractor wastewater treatment plant with a capacity of 1,000 m3/day.

Finally, to optimise the stadium's accessibility for tens of thousands of spectators, Dar conducted a traffic impact assessment and a parking demand and management study for the FIFA World Cup Qatar 2022™ opening and finale. The study estimated that the majority of spectators will be served by public transport such as the metro, dedicated buses, and taxis with only a small percentage using private vehicles. These studies informed recommendations for public transport and highway networks and were also used to design the parking facilities for cars, buses, vans, and other vehicles in addition to the circular roads connecting these facilities. A park-and-ride-based approach to spectator parking was also put forward, in order to meet the objectives of the Green Qatar 2022 vision.