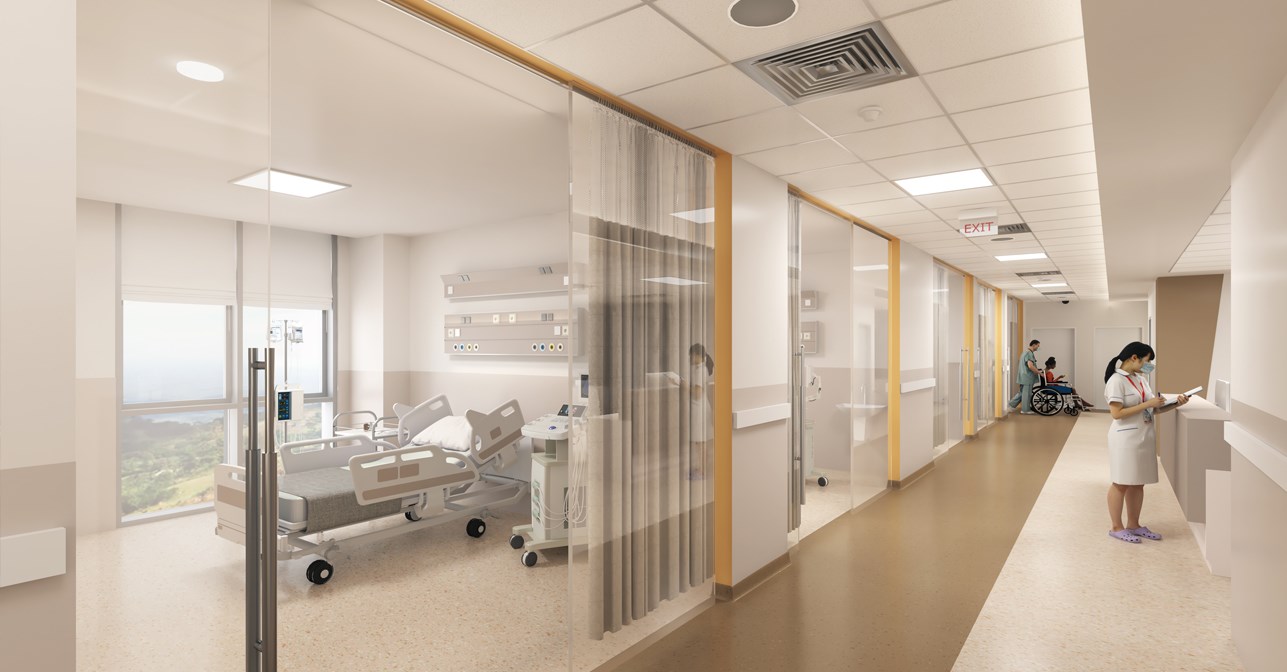 Through advanced specialisations in cancer treatment, cardiology, neurosurgery and more, the International Specialised Hospital of Uganda will provide high-quality care for patients from Uganda and neighbouring countries. Dar revised and updated an existing master plan for the hospital and provided a detailed design that incorporates optimised solutions to make the best of resources while offering all the needed amenities and more.
The International Specialised Hospital of Uganda is set to be a state-of-the-art medical institution, specialising in cancer treatment, cardiology, neurosurgery, respiratory diseases, kidney transplants, epilepsy and orthopaedic surgery, and more. With 243 beds, it will provide advanced care for patients from both Uganda and its neighbouring countries.
Incorporating advanced medical technology and exceptional sustainability practices, Dar successfully completed the master plan and detailed design for the hospital including infrastructure, utilities and landscaping works. In addition to the main hospital building, the project includes a power station, two staff hostels, a training centre, in addition to a helipad and two sports fields. Dar was also responsible for tackling challenges related to adapting existing conditions and optimising costs to meet the project's target budget.
In Numbers:
Hospital (243 beds) and power station: 59,100 m2
Staff hostels: 1,850 m2
Training centre: 950 m2
Total site area: 300,000 m2
The plan includes external infrastructure and utility networks, as well as internal roads and accesses, parking areas, and internal distribution networks, along with all safety and security requirements.
The design also features additional facilities including staff residences, a specialised training school, sport facilities, a helipad, a central utility plant, guardhouses, gates and a boundary wall, tanks, utility plants and more.
Dar's scope covered includes architecture and landscaping; structural engineering; MEP engineering, including for IT, firefighting, and security systems; and acoustics.
The interior design portion includes finishes, colour schemes, non-medical furniture, and equipment – designed to provide a comfortable atmosphere for patients and visitors.
Dar also prepared a medical equipment package for the hospital. The package provides medical planning based on the best techno-economical solutions to optimise clinical use while making efficient use of space.