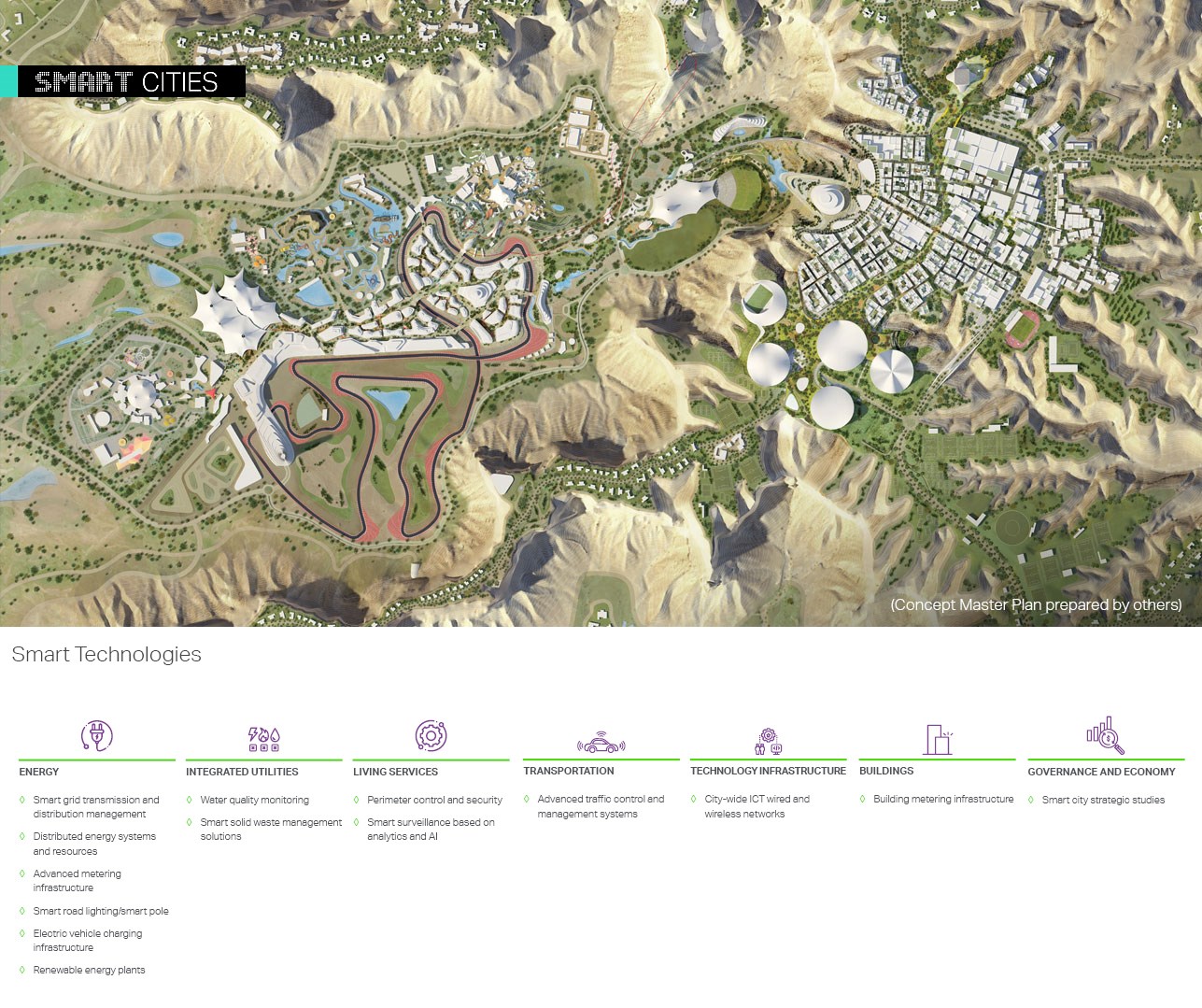 In 2018, Dar undertook infrastructure master planning and engineering services for Qiddiya Entertainment City, one of the giga-projects planned under Saudi Arabia's Vision 2030. More than double the size of Disney World, the 334 km2 site caters to every imaginable taste and will boast over 300 recreational and educational facilities ranging from sports arenas; motorsport tracks; high-end theme parks including a Six Flags theme park; historical, cultural, and educational enterprises and events; water parks; and adventure, water, and even snow-based activities. In addition to top-grade entertainment areas, this exceptional development will include vacation homes and extensive residential and community facilities. Located within an hour's drive from Riyadh, Qiddiya is expected to attract more than 1.5 million visitors annually when the first phase opens in 2022.
The Infrastructure Master Plan
Dar is currently in the process of designing the entire spectrum of the infrastructure elements required to support and operate the new city: transportation, utilities, community security and safety, street lighting, flood protection, and beyond.
The site itself poses very specific challenges. Located in an arid desert, the site will be divided between two plateaus that have 200 metres' worth of difference in level and are, moreover, separated by a cliff. Such a terrain presents a significant geographic challenge for infrastructure planners, more so considering that preserving the original landscape is a must and a priority.
Most importantly, Qiddiya is expected to encapsulate Saudi Arabia's Vision 2030 with its ideals of innovation and sustainability, and Dar's role is to develop and implement smart, sustainable infrastructure backed by advances in automation and digitalisation and capable of providing intelligent and adaptive solutions across multiple sectors.
In order to meet these challenges, Dar's concept design and strategic approach is rooted in the principles of resilience, sustainability, and smart cities. Since Qiddiya is a greenfield city, Dar has the opportunity to imprint countless smart city services within its foundations and infrastructure. For example, Dar will digitise the entire electricity system, offering smart grid transmission and distribution systems, armed with smart metering and characterised by distributed energy resources in the form of renewables (wind and solar). The site will also incorporate new smart mobility technologies and the latest intelligent transportation systems as part of the smart city features.
Mobility in Qiddiya is particularly critical considering the city's entertainment offerings and aspirations. Therefore, a strategic traffic model was developed in coordination with the local approving authority (RCRC) given the special generation of the development with emphasis on the trip distribution within Riyadh and from external cities and airports. A city-specific strategic model was also built detailing the different interaction within Qiddiya zones and the required internal road network hierarchy and capacities, notably during event days when a surge in traffic is expected and managed through event management plans. Given the high synergy between different zones within Qiddiya city, a mobility study was conducted, highlighting different modes of transport, new smart mobility technologies and latest ITS.

Developing Qiddiya's technical guidelines for specifications
To guide the future development of Qiddiya, Dar worked with project stakeholders to prepare the technical guidelines for specifications and to establish a database and IT platform for the production, utilisation, and development of the Qiddiya common specifications.
The scope includes benchmarking against projects similar to Qiddiya (including Disneyland, etc.), collecting data from different Qiddiya stakeholders, preparing the materials criticality report, developing common specifications, and formulating the management processes to maintain the specifications.
With regards to sustainability, the scope also included conducting a benchmarking study for all projects with sustainability targets to ensure development of specifications guidelines and sustainable design performance guidelines that meet and exceed benchmarked references; tackling market surveys related to materials availability and local codes and standards to incorporate most stringent requirements for enhanced sustainable performance; and tackling environmental compliance, waste management during operation and construction, sustainable construction management plans, health and safety consideration along with the integration of sustainability KPIs as they relate to site, energy, water, waste, materials, indoor environment and commissioning.

Qiddiya Iconic Cliff Tunnel
Along with the design of the infrastructure for the entire city, Dar also provided the concept design of a 350-m-long tunnel envisaged to connect the Resort Core Zone, a zone that is condensed with entertainment assets including a racetrack, to the Motion Zone, a zone that contains a motorsport hub and private race resort, through the passage under an existing high ground cliff. The tunnel will serve two purposes: as a Grade 1 or 2 auto racing track subjected to the safety regulations of the Fédérale Internationale de l'Automobile (FIA) and as a vehicular connection for the two roads at the opposing cliff sides with a dual carriageway of two lanes each.